BCCT BUSINESS BREAKFAST
"Trade Digitalisation - the global, UK and bilateral picture"
Trade digitalisation is happening at pace with the International Chamber of Commerce setting its ambition to digitalise 60-80% of world trade by 2026 and the UK government at the forefront of driving legal reforms and setting new standards for digital trade corridors.
The ICC Centre for Digital Trade and Innovation based in the Tees Valley, funded by the FCDO, has been supporting the ETDA in Thailand to set out its roadmap for new legislation to remove legal barriers to the digitalisation of commercial trade documents and to lay the ground for a fully digital UK-Thailand trade corridor. The Electronic Trade Documents Bill will do the same in May/June 2023. The project concludes with a presentation to the Thai government at the end of March.
This is an opportunity to get the latest insights on global and UK developments from Chris Southworth, Secretary General of ICC United Kingdom and Co-Chair of the Legal Reform Advisory Board at the ICC Digital Standards Initiative based in Singapore.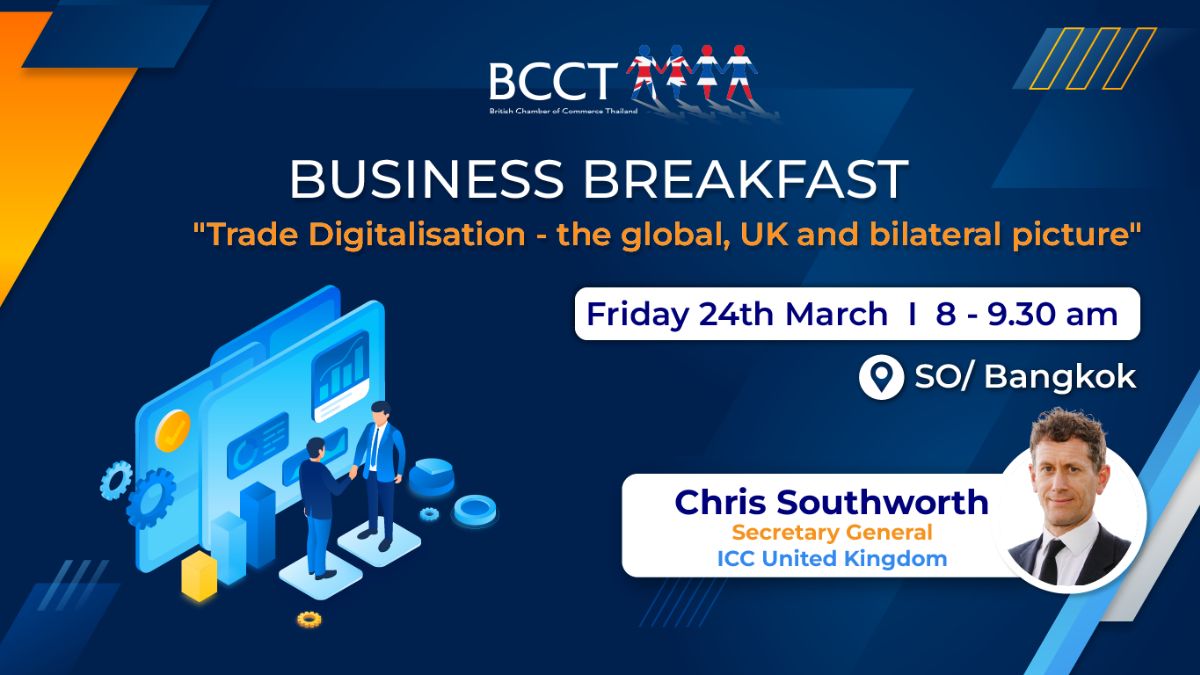 Event details:
Date: Friday 24th March 2023
Time: 8.00-9.30am
Venue: SO/ Bangkok on North Sathorn Road
Cost: THB 1,200 for BCCT members and THB 2,400 for non-members. This price includes a buffet breakfast, tea and coffee.
Booking: To reserve your seat, please click HERE or email events@bccthai.com for booking assistance
Payment:
-Online Payment options are available when confirming your booking (recommended). Online payment when you book is the simplest way to do this.
-Bank transfer is also available to Kasikorn bank 709-2-36464-4 and email finance@bccthai.com to verify for a receipt.
*Pre-registration and pre-payment are required to confirm your booking. No payment on the door. No walk-ins please. Thank you for your co-operation*